Grilled Eggplant Bruschetta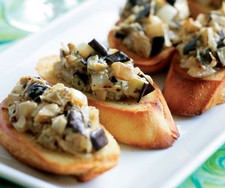 Recipe Date:
March 7, 2017
Measurements:
Imperial (US)
Ingredients
1 large eggplant, cut into 1 inch cubes
1/2 lb cherry tomatoes, halved
4 garlic cloves, halved
1/4 cup olive oil
1/2 tsp kosher salt
1/4 tsp ground fenugreek seeds
2 tsps freshly grated lemon zest
3/4 cup plain greek yogurt
3 tbsps fresh parsley, chopped
Directions
Tasting notes: The earthy notes of eggplant highlight the dark fruit elements of the Mendocino Ridge Pinot while complimenting the savory flavors.
Serena's tips: Make sure the eggplant is cooked through before removing it from the oven. You can put the lemon yogurt on the crostini and top it with the eggplant.
Recipe: Three Summer Bruschettas: Grilled Eggplant Bruschetta, Chowgirls Killer Party Food, copyright 2016
Preheat oven to 350 degress F. In a medium bowl toss eggplant, tomatoes, and garlic in olive oil, salt and pepper. Place vegetables on a parchment-lined baking sheet and bake for 35 - 40 minutes, tossing halfway through. Remove from oven, cool slightly and place mixture in the bowl of a food processor. Sprinkle with fenugreek and pulse mixture 5 times. In a small bowl, combine the lemon zest with yogurt and stir well.
To serve, spread 1 tbsp eggplant mixture on a crostini and garnish with 1/2 tbsp lemon yogurt. Sprinkle with chopped parsley.
Makes about 24 bruschetta.
Photo courtesy of the Scott Phillips courtesy of Fine Cooking http://www.finecooking.com/recipes/bruschetta-grilled-eggplant-vidalia-onion.aspx
Our recipe pairings for the spring 2017 release are from Chowgirls Killer Party Food, the best-selling cookbook written by good friends of ours from Minnesota. Chowgirls has been catering Cartograph's Minnesota spring release parties since our debut, and chef Heidi Andermack has been friends with Alan since his days at Minnesota Public Radio.