Greek Tomato Salad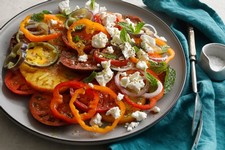 Recipe Date:
April 1, 2023
Measurements:
Imperial (US)
Ingredients
4 lbs ripe tomatoes (heirloom)
1 small onion, thinly sliced
2 small sweet peppers (bell or corno di toro)
flaky sea salt
4 ozs Greek feta cheese
2 tbsps mint (roughly chopped)
1/2 tsp dried oregano
fruity extra-virgin olive oil
Directions
Tasting Notes: Such a delicious summer recipe! The acidity of the tomatoes and the bite of the red onion and feta are tempered by the strawberry and peach in the Rosé.
Serena's Tips: Definitely add the flourishes (green pepper, red onion, mint and oregano) because it brings a great burst of flavor.
Recipe:
Recipe courtesy of David Tanis for the New York Times. Photo courtesy of Craig Lee for the New York Times.