Greek Salad with Goat Cheese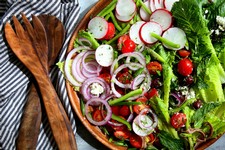 Recipe Date:
March 18, 2020
Measurements:
Imperial (US)
Ingredients
1 clove garlic, halved
4 cups romaine lettuce, rinsed, dried, and torn into small pieces
8 radishes, medium sized, sliced
1 red onion, small and sliced into paper thin rings
6 scallions, chopped
1 green pepper, small, sliced into thin strips
2 cups cherry tomatoes, halved
1 tsp dried oregano
1 tbsp fresh mint, finely chopped
1 tbsp fresh dill, finely chopped
1/2 cup extra virgin olive oil
3 tbsps red wine vinegar
6 ozs dried textured plain goat cheese, crumbled
8 greek or italian black olives in oil, drained
4-8 anchovy fillets, drained
salt and pepper to taste
Directions
Tasting notes: We love a good Greek salad as lunch on a hot summer day and when you add Rosé to the mix, it makes for a wonderful lunch!
Serena's tips: We increased the goat cheese and olives. The anchovy fillets can be left out if you are not a fan. Alternatively, you can also add anchovy paste to the dressing instead of having the anchovy fillets in your salad.
Recipe:
Website link
Website address: cooking.nytimes.com/recipes/4812-greek-salad-with-goat-cheese
Recipe courtesy of Florence Fabricant and the New York Times. Photo courtesy of Jim Wilson/New York Times. https://cooking.nytimes.com/recipes/