Goat Cheese-Stuffed Dates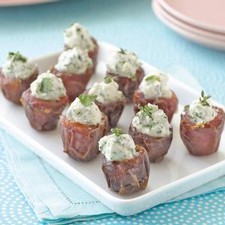 Recipe Date:
April 4, 2016
Measurements:
Imperial (US)
Ingredients
4 ozs goat cheese, crumbled
1 garlic clove, small, finely chopped
2 tsps fresh parsley, finely chopped
1/8 tsp salt
16 dried dates, cut in half, pits removed
Directions
Tasting notes: The sweet and savory combination plays well with the bright fruit and savory elements of the Mendocino Ridge Pinot Noir.
Serena's tips: We used Delget Noor Dates that are already pitted. Pitting dates is very sticky work but if you can find large dates, it makes it easier.
Recipe:
Website link
Website address: www.myrecipes.com/recipe/goat-cheese-stuffed-dates
Recipe and photo courtesy of www.myrecipes.com.