Ginger-Dill Salmon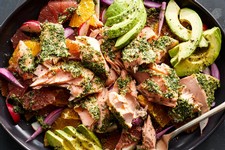 Recipe Date:
March 16, 2021
Measurements:
Imperial (US)
Ingredients
1 (1 1/2-pound) salmon fillet, skin-on or skinless
kosher salt and black pepper
6 tbsps finely chopped dill
1 (2-inch) piece ginger, scrubbed and finely grated (no need to peel)
2 tbsps extra-virgin olive oil, plus more for serving
1 grapefruit
2 oranges
6 small radishes, cut into thin wedges
1 avocado
flaky sea salt, for finishing (optional)
Directions
Tasting notes: The bright elements of ginger and dill play really well with the acidity of the Rosé.
Serena's notes: The remaining portion of the ginger-dill mixture gets mixed with the citrus to make a salad.
Recipe:
Website link
Website address: https://cooking.nytimes.com/recipes/1021938-ginger-dill-salmon
Recipe courtesy of Ali Slagle and the New York Times. Photo courtesy of Christopher Simpson for The New York Times. Food Stylist: Barrett Washburne.