Gazpacho Jars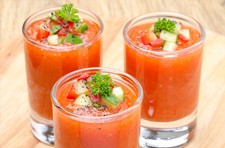 Recipe Date:
March 7, 2017
Measurements:
Imperial (US)
Ingredients
2 cups tomatoes, roughly chopped
1 cup yellow bell peppers, roughly chopped
1 cup cucumbers, roughly chopped
1/2 cup white onion, roughly chopped
4 garlic cloves, peeled & chopped
6 cups tomato juice
1/3 cup olive oil
1/4 cup red wine vinegar
3 tbsps lemon juice
1 tbsp kosher salt
1 tsp freshly ground black pepper
1 tbsp fresh dill, chopped
Directions
Tasting notes: The bright fruit flavors of the Rosé are complimented by the fresh vegetable flavors, it's summer in a jar.
Serena's tips: Use fresh summer tomatoes to have the best depth of flavor.
Recipe: Gazpacho Jars, Chowgirls Killer Party Food, copyright 2016
In a food processor, pulse chopped tomatoes about 10 times. Transfer to a large bowl. Add bell peppers and cucumbers to food processor and repeat, pulsing until vegetables are coarsley chopped but not puréed. Transfer to bowl with tomatoes. Add onions and garlic to food processor and pulse about 10 times. Add to tomato mixture. Stir in tomato juice, olive oil, vinegar, lemon juice, salt, pepper and dill and combine well.
Transfer soup to 4oz canning jars, seal, and refrigerate for 2 hours or up to 3 days.
Makes 12 - 16 jars.
Photo courtesy of http://blog.fuertehoteles.com/en/food-and-drink/gazpacho-recipe/
Our recipe pairings for the spring 2017 release are all coming from Chowgirls Killer Party Food, the best-selling cookbook written by good friends of ours from Minnesota. Chowgirls has been catering Cartograph's Minnesota spring release parties since our debut, and chef Heidi Andermack has been friends with Alan since his days at Minnesota Public Radio.