French Tomato Tart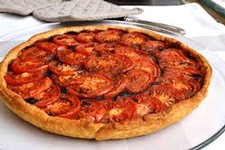 Measurements:
Imperial (US)
Ingredients
1 1/2 cups Flour
1/2 cup Butter
1 Large Egg
1 1/2 lbs Tomatoes
2 tbsps Dijon Mustard
2 cups Swiss Cheese, Shredded
3 tbsps Olive Oil
3 tbsps Tomato Paste
3 tbsps Shallots, Chopped
1 Garlic Clove
2 tsps Thyme, Fresh
2 tsps Marjoram, Fresh
1 tsp Oregano, Fresh
8 Anchovy Filets
18 Niçoise or Calamata Olives, Pitted
Salt
Pepper
Directions
Pairing Notes: The crisp acidity of the Gewürztraminer cleanses the palate after each bit of this savory tart; the aromas on the nose of the wine enhance the roasted tomatoes' earthiness.
Chef's Tip: We leave out the oregano and substitute one extra teaspoon each of the fresh marjoram and thyme. Also the pie dough can be baked the day before.
Recipe courtesy of Nicole Perzik, via Myrecipes.com, French Tomato Tart
Photo courtesy of cookinginprovence.wordpress.com