French Potato and Green Bean Salad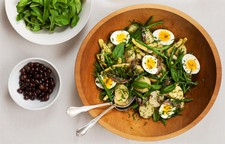 Recipe Date:
March 16, 2022
Measurements:
Imperial (US)
Ingredients
2 lbs medium potatoes, like yukon gold
salt and pepper
1 bay leaf
1 large thyme sprig
3 garlic cloves, smashed to a paste with a little salt
1 tbsp chopped anchovy
1 tbsp chopped capers
2 tsps dijon mustard
4 tbsps white wine vinegar
1/3 cup extra virgin olive oil
1 lb small french beans, or small romano or wax beans
4 large eggs
1 tbsp thinly sliced chives
2 tbsps roughly chopped basil
7 anchovy fillets, optional, for garnish
8 ozs arugula, optional
Directions
Tasting notes: We love having lunch outside in summer and a great summer salad paired with Rosé is our idea of a perfect summer lunch. The bright acid on the wine balances the bold dressing.
Serena's tips: This definitely serves 8 - 12 people as a side dish. Make the eggs in advance to cut down on the day of cooking time.
Recipe:
Website link
Website address: https://cooking.nytimes.com/recipes/12564-french-potato-and-green-bean-salad
Recipe courtesy of David Tanis for the New York Times. Photo courtesy of Karsten Moran for The New York Times.