French Lentils with Chard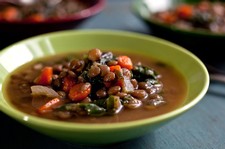 Recipe Date:
August 26, 2020
Measurements:
Imperial (US)
Ingredients
1 tbsp extra virgin olive oil
1 onion, chopped
2 carrots, chopped
1 celery stalk, chopped
4 large garlic cloves, minced
1 lentils, preferably imported green lentils, washed and picked over 2 1/4 cups
a bouquet garni made with 2 bay leaves, a Parmesan rind and a sprig or two each of thyme and parsley
salt
freshly ground pepper
1 bunch swiss chard (3/4 to 1 pound), stemmed, washed and coarsely chopped
freshly grated parmesan, crumbled goat cheese or feta for serving
Directions
Tasting notes: Lentils and chard are great to pair with Pinot because they compliment the earthy aspect of the wine and let the fruit hsine through.
Serena's tips: If you don't like chard, use arugula or spinach!
Recipe:
Website link
Website address: https://cooking.nytimes.com/recipes/1013867-french-lentils-with-chard
Recipe courtesy of Martha Rose Schulman and the New York Times. Photo courtesy of Andrew Scrivani for The New York Times.