Shepherd's Pie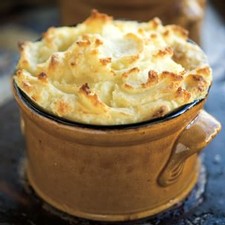 Recipe Date:
September 1, 2015
Measurements:
Imperial (US)
Ingredients
2 lbs boneless lamb shoulder
kosher salt, to taste
freshly ground black pepper, to taste
2 tbsps olive oil
8 tbsps butter, unsalted
1 large yellow onion, diced
3 carrots, diced
3 celery stalks, diced
2 small garlic cloves, minced
6 tbsps all purpose flour
3 1/3 cups beef stock (or broth)
2/3 cup dry white wine
2 tsps fresh rosemary, minced
3 lbs baking potatoes
1 cup peas (fresh, or thawed frozen)
Directions
Tasting notes: The rich savory flavors of the lamb stew bring out the bright cherry notes of the Floodgate Pinot.
Serena's tips: We ask our local butcher to cut the lamb into 1/2 inch cubes and we increase the lamb to 3 lbs. There is a typo in the recipe in the last sentance of the second paragraph. It should read: Return the lamb to the Dutch oven, cover, simmer on medium low, and cook until the lamb is tender for about 1.5 hours, but begin checking it at 45 minutes. With the mashed potatoes, make sure they are really creamy so that they create the smooth top that browns really well.
Recipe:
Website link
Website address: https://www.williams-sonoma.com/recipe/shepherds-pie-cf.html?cm_src=RECIPESEARCH
Recipe and photo courtesy of williamssonoma.com, adapted from Williams-Sonoma Comfort Food, by Rick Rodgers (Oxmoor House, 2009).