Flank Steak Skewers With Chimichurri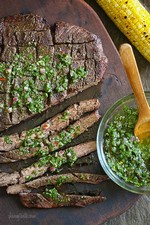 Recipe Date:
March 8, 2017
Measurements:
Imperial (US)
Ingredients
1 1/2 lbs flank steak
1 tbsp kosher salt
1 tbsp freshly ground black pepper
2 tsps garlic powder
1 tbsp dried oregano
1/8 tsp cayenne pepper
2 tbsps olive oil
1 cup loosely packed flat-leaf parsley
1 cup loosely packed cilantro
3 tbsps fresh oregano leaves
2 fresh bay leaves
2 garlic cloves, peeled
1 serrano chile, stemmed, seeded, and coarsely chopped
1/4 cup olive oil, plus 2 tbsp more to add later
2 tbsps red wine vinegar
kosher salt to taste
Directions
Tasting notes: The steak compliments the earthiness of the Mendocino Ridge Pinot Noir and the chimichurri sauce plays with the bright fruit flavors.
Serena's tips: Make the chimichurri sauce the day before to give the flavors more time to integrate.
Recipe: Flank Steak Skewers With Chimichurri, Chowgirls Killer Party Food, copyright 2016
Pat steak with paper towel to remove excess moisture.
In a small bowl, combine salt, pepper, garlic powder, oregano, and cayenne to create a dry rub for steak. Rub top, bottom, and sides of steak with spice mixture and set aside, allowing it to come to room temperature.
Heat a gas or charcoal grill to 350 degrees F. If using a broiler preheat to 525 degrees F and preheat a cast iron frying pan. Baste steak with olive oil. Grill steak, covered, for 6-7 minutes then turn and grill for another 6-7 minutes (for medium rare). If broiling, place steak in preheated frying pan and broil 2-3 inches from the flame for 2-3 minutes per side. Set aside and allow steak to rest at least 15 minutes before slicing. Slice 1/4 inch thick against the grain, on a diagonal, and skewer slices with 8 inch bamboo skewers. Serve with chimichurri.
Chimichurri: In a food processor or blender, combine parsley, cilantro, oregano, bay leaves, garlic, chile, and cumin and process until finely chopped. Add olive oil and vinegar and pulse to combine. Season with salt.
Steak makes about 24 skewers.
Chimichurri makes about 1 cup.
Photo courtesy of: http://www.skinnytaste.com/grilled-flank-steak-with-chimichurri/
Our recipe pairings for the spring 2017 release are coming from Chowgirls Killer Party Food, the best-selling cookbook written by good friends of ours from Minnesota. Chowgirls has been catering Cartograph's Minnesota spring release parties since our debut, and chef Heidi Andermack has been friends with Alan since his days at Minnesota Public Radio.