Fish With Sizzling Olive Butter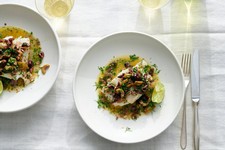 Recipe Date:
March 16, 2022
Measurements:
Imperial (US)
Ingredients
1/4 cup unsalted butter (1/2 stick)
1 tbsp extra-virgin olive oil
1 cup mixed olives, such as kalamata, castelvetrano, moroccan or picholine, pitted and sliced
2 garlic cloves, minced or finely grated
1/2 tsp fennel or coriander seeds, coarsely crushed (use the flat side of your knife or a mortar and pestle)
4 pieces flaky white fish fillet, such as cod (about 6 ounces each, 1 inch thick), patted dry
kosher salt and freshly ground black pepper
2 lime wedges, plus more for serving
1/4 cup chopped cilantro or parsley, leaves and tender stems
1/4 cup chopped dill, leaves and tender stems
Directions
Tasting notes: Fennel brings out the cigar box flavor in the Transverse but is then balanced by the black cherry flavors in the wine.
Serena's tips: A mix of olives adds more depth of flavor. Make sure the fish is 1 inch thick because if it is too thin, it does not have the right texture.
Recipe:
Website link
Website address: https://cooking.nytimes.com/recipes/1020813-fish-with-sizzling-olive-butter
Recipe courtesy of Melissa Clark for the New York Times. Photo courtesy of David Malosh for The New York Times. Food Stylist: Simon Andrews.