Fish Fillets with Tomatoes, Squash, and Basil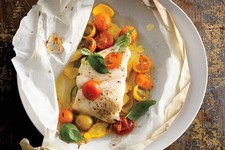 Recipe Date:
September 1, 2018
Measurements:
Imperial (US)
Ingredients
2 cups very thinly sliced assorted summer squash (like zucchini, yellow crookneck, and pattypan)
1/4 cup thinly sliced shallots
20 cherry tomatoes, halved
4 tbsps dry white wine
4 tbsps extra-virgin olive oil, divided
kosher salt and fresh ground pepper
4 (6 oz) skinless white flaky fish fillets (like atlantic cod or halibut)
Directions
Tasting notes: This is a bright dish that screams summertime to us and the light, bright cranberry flavor on the Pinot and Sangiovese are enhanced.
Serena's tips: We love using squash from our garden for this recipe and for the fish, we recommend fresh Corvina.
Recipe:
Website link
Website address: www.epicurious.com/recipes/food/views/fish-fillets-with-tomatoes-squash-and-basil-395933
Recipe and photo courtesy of: www.epicurious.com.