Filet Mignon with Mushrooms and Pinot Sauce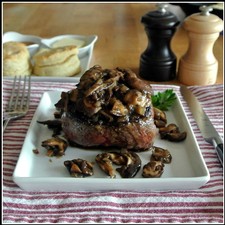 Recipe Date:
September 13, 2014
Measurements:
Imperial (US)
Ingredients
2 filet mignon steaks, 8 oz. each
kosher salt
fresh ground black pepper
2 bacon strips
2 tbsps extra-virgin olive oil
1 lb assorted mushrooms
1 tsp garlic, finely chopped
2 rosemary sprigs
2 cups pinot noir
2 tbsps prepared demi-glace
2 tbsps butter, unsalted
Directions
Tasting notes: Filets are luxuriously tender cuts of meat, and a perfect match for Mariah's soft, silky tannins. The mushrooms bring out the wine's earthy notes, while the seared steak accentuates the bright-red fruit.
Serena's tips: We recommend reducing the amount of Pinot noir to 1 cup. Also feel free to skip the bacon; the recipe will still be delicious.
Recipe:
Website link
Website address: www.foodnetwork.com/recipes/tyler-florence/filet-mignon-with-mushrooms-and-sauce-pinot-noir-recipe.html
Recipe courtesy of Tyler Florence via Foodnetwork.com, Filet Mignon With Mushroom and Sauce Pinot Noir. Photo courtesy of Pleaseyourmaninthekitchen.blogspot.com, Filet Mignon With Mushroom Sauce.