Crustless Zucchini and Basil Quiche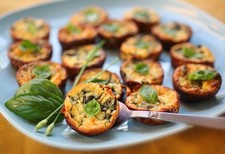 Recipe Date:
September 1, 2015
Measurements:
Imperial (US)
Ingredients
1/4 cup corn starch
1 1/4 cups whole milk
2 large eggs (whole)
2 large egg yolks
1 cup heavy cream
3/4 tsp kosher salt
1/8 tsp nutmeg
oil (for baking dish)
1 tbsp olive oil
4 garlic cloves, minced
2 shallots, minced
2 small zucchini, grated
1/4 cup grated cheese (either gruyère or parmesan)
1/2 cup fresh basil, finely chopped
Directions
Tasting notes: The combination of veggies, herbs, and the richness of the filling balance the delicate nature of the Perli Pinot noir.
Serena's tips: We mix the batter and add the zucchini mixture and grated cheese into the batter and use large ramekins to create six single dinner portion crustless quiches instead of making mini quiches. Be generous with the basil as it adds good flavor and if you're not a zucchini fan, you can always substitute broccoli, which is just as delicious!
Recipe:
Website link
Website address: www.thekitchn.com/makeahead-recipe-crustless-min-125509
Recipe adapted from Fine Cooking Magazine, courtesy of thekitchn.com. hoto courtesy of Liz Vidyarthi, via thekitchn.com.