Corn Pancakes With Carnitas & Pickled Red Onion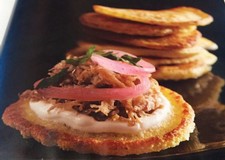 Recipe Date:
August 1, 2017
Measurements:
Imperial (US)
Ingredients
1/2 small red onion, center removed, thinly sliced
1/4 cup red wine vinegar
2 lbs boneless pork shoulder
2 tbsps olive oil
3 garlic cloves, minced
3 tsps salt
1 tsp freshly ground black pepper
1 tsp ground cumin
2 tsps chopped fresh thyme
1 orange, quartered
1 cup orange juice
3/4 cup cornmeal
1/4 cup all purpose flour
1/2 tsp salt
1 tsp baking powder
1 egg, beaten
1 tbsp honey
1 cup milk
1 tbsp butter, melted
1 cup creme fraiche
1/4 cup chopped fresh cilantro for garnish
Directions
Tasting notes: The pork and the corncakes highlight the mushroom and cocoa elements of the Perli Pinot.
Serena's tips: For the garnish we did a quick blanch of the onions first to reduce the bitterness and we recommend preparing this at least 5 days in advance. We used polenta instead of making the conr cakes when we have been short on time.
Recipe: Corn Pancakes With Carnitas & Pickled Red Onion, Chowgirls Killer Party Food, copyright 2016
GARNISH
In a small bowl, combine sliced onions and vinegar. Cover and chill for at leaast 6 hours. (Can be stored in refrigerator for up to 2 weeks-and they get better with age.)
PORK
Preheat oven to 375ºF.
Trim pork shoulder of excess fat and rub with olive oil, garlic, 3 tsp salt, pepper, cumin, and thyme. Place pork in a heavy Dutch oven and sear on high heat, 3-4 minutes on each side, until browned. Add orange quarters and orange juice. Add 1 cup water. Cover pot and bake, turning occasionally, for 1 ½ hours. Remove lid and cook for 30 more minutes or until meat is tender and easily torn. Discard oranges. Cool pork slightly and pull into long strips. Lightly chop pork, place in a bowl, and pour pan drippings over it. Taste and season with salt and pepper. Keep warm.
CORN CAKES
In a medium bowl, whisk together cornmeal, flour, ½ tsp salt, and baking powder. Add egg, honey, milk, and melted butter, and whisk to combine. Lightly oil a griddle or large frying pan on high heat until almost smoking. Reduce heat to medium and, using a tablespoon measure, pour small pancake rounds. Cookr about 1 minute, turn, and cook second side until browned. Remove from heat and keep warm.
Top each pancake with crème fraÎche and pulled pork. Garnish with pickled onions and cilantro.
Makes about 24 adorable little snacks.
Photo courtesy of Chowgirls Killer Party Food.
Our recipe pairings for the fall 2017 release are coming from Chowgirls Killer Party Food, the best-selling cookbook written by good friends of ours from Minnesota. Chowgirls has been catering Cartograph's Minnesota spring release parties since our debut, and chef Heidi Andermack has been friends with Alan since his days at Minnesota Public Radio.