Coffee-Rubbed Grilled Pork Tenderloin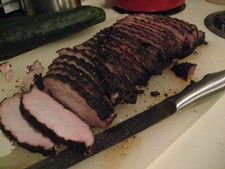 Measurements:
Imperial (US)
Ingredients
2 Pork Tenderloins, 1 LB Each
2 tbsps Coffee Beans, Finely Ground
2 tsps Light Brown Sugar, Packed
1 tsp Chili Powder
2 tsps Salt (for the pork)
2 tbsps Olive Oil
1 Watermelon, About 4 Lbs.
2 Valencia Oranges
2/3 cup Brown Sugar
1/2 cup Apple Cider Vinegar
1 Medium Shallot, Sliced
1/2 Medium Jalapeño, Finely Chopped (including ribs and seeds)
1/4 tsp Salt (for the watermelon)
Directions
Pairing Notes: The pork is a great complement to the bright-red fruit in the wine, while the coffee rub coaxes out the Pinot's earthiness and highlights the cigar-box nose.
Chef's Tip: The watermelon relish is a lot of work, so we serve this dish with a side of salted watermelon slices instead.
Recipe by Samantha Seneviratne, from Fine Cooking, Issue 111, via Finecooking.com, Coffee-Rubbed Grilled Pork Tenderloin.
Photo courtesy of Thegrotonline.com.