Chicken Breasts Stuffed with Figs, Prosciutto and Gorgonzola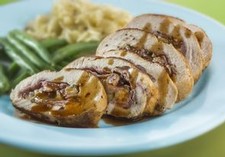 Recipe Date:
September 13, 2014
Measurements:
Imperial (US)
Ingredients
4 chicken breasts halves, boneless & skinless, 7-8 oz each
kosher salt, to taste
fresh ground black pepper, to taste
8 thin prosciutto slices, about 4 oz total
5 ozs gorgonzola cheese, crumbled
1/2 cup figs, dried
1 1/2 tbsps olive oil
1/2 cup balsamic vinegar
1/4 cup honey
2 tbsps flat leaf parsley, minced
sprinkle of fleur de sel, to garnish
Directions
Tasting notes: This dish is a perfect complement to the complexity of the 2012 Roma's. The prosciutto brings out the umami aspects of the wine, while the figs highlight the fruit.
Serena's tips: Using fresh figs instead of dried figs makes the dish even better. Be sure to really flatten the chicken.
Recipe:
Website link
Website address: https://www.splendidtable.org/story/2012/04/17/chicken-breasts-stuffed-with-figs-prosciutto-and-gorgonzola
Recipe by Betty Rosbottom, Sunday Roasts: A Year's Worth of Mouthwatering Roasts, from Old-Fashioned Pot Roasts to Glorious Turkeys, and Legs of Lamb, via Splendidtable.org, Chicken Breasts Stuffed with Figs, Prosciutto, and Gorgonzola. Photo courtesy of Bill Hogan, Chicago Tribune.