Chicken Breasts Stuffed with Figs, Prosciutto and Gorgonzola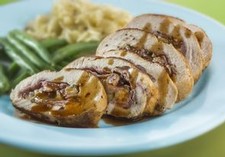 Recipe Date:
September 13, 2014
Measurements:
Imperial (US)
Ingredients
4 Chicken Breasts Halves, Boneless & Skinless, 7-8 oz each
Kosher Salt, To Taste
Fresh Ground Black Pepper, To Taste
8 Thin Prosciutto Slices, about 4 oz total
5 ozs Gorgonzola Cheese, Crumbled
1/2 cup Figs, Dried
1 1/2 tbsps Olive Oil
1/2 cup Balsamic Vinegar
1/4 cup Honey
2 tbsps Flat Leaf Parsley, minced
Sprinkle of Fleur de Sel, To Garnish
Directions
Pairing Notes: This dish is a perfect complement to the complexity of the 2012 Roma's. The prosciutto brings out the umami aspects of the wine, while the figs highlight the fruit.
Chef's Tip: Using fresh figs instead of dried figs makes the dish even better. Be sure to really flatten the chicken.
Recipe by Betty Rosbottom, Sunday Roasts: A Year's Worth of Mouthwatering Roasts, from Old-Fashioned Pot Roasts to Glorious Turkeys, and Legs of Lamb, via Splendidtable.org, Chicken Breasts Stuffed with Figs, Prosciutto, and Gorgonzola
Photo courtesy of Bill Hogan, Chicago Tribune.