Chicken Braised With Grapes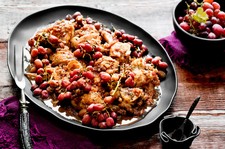 Recipe Date:
August 26, 2020
Measurements:
Imperial (US)
Ingredients
3 1/2 lbs chicken, cut in 10 pieces (breasts halved, backbone and wingtips removed)
1 tbsp unsalted butter
Salt and ground black pepper
1 medium red onion, finely chopped
2 cloves garlic, thinly sliced
1/4 cup sherry vinegar, preferably Pedro Ximénez
1/4 cup chicken stock
1 tsp ground cardamom
1 lb seedless red grapes, cut into small clusters leaving stems attached
3 sprigs fresh thyme
1 tbsp high-quality syrupy balsamic vinegar or pomegranate molasses
Directions
Tasting notes: The balsamic sauce adds a great layer of depth, fruit and acidity to this dish and we thought it taste great with Pinot.
Serena's tips: Unstem the grapes to make it easier to eat, yes it is less pretty but so much easier to eat. Also don't cook your chicken too low or it will take forever.
Recipe:
Website link
Website address: cooking.nytimes.com/recipes/1018312-chicken-braised-with-grapes
Recipe courtesy of Florence Fabricant and the New York Times. Photo courtesy of Rikki Snyder for The New York Times.