Charlie Bird's Farro Salad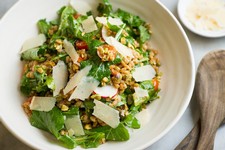 Recipe Date:
March 18, 2020
Measurements:
Imperial (US)
Ingredients
1 cup farro
1 cup apple cider
2 tsps kosher salt, more as needed
2 bay leaves
8 tbsps extra-virgin olive oil
2 tbsps fresh lemon juice
1/2 cup parmesan cheese, shaved with a vegetable peeler
1/2 cup chopped pistachio nuts
2 cups arugula leaves
1 cup parsley or basil leaves, torn
1 cup mint leaves
3/4 cup halved cherry or grape tomatoes
1/3 cup thinly sliced radish
maldon or other flaky sea salt, for finishing
Directions
Tasting notes: The earthiness in farro echoes the earthiness in the Pinot but then the fruit in the Pinot elevates it to a brighter note.
Serena's tips: Definitely salt the farro. Don't skimp.
Recipe:
Website link
Website address: cooking.nytimes.com/recipes/1015843-charlie-birds-farro-salad
Recipe courtesy of Melissa Clark and the New York Times. Photo courtesy of Evan Sung/New York Times. https://cooking.nytimes.com/recipes/