Butternut Squash, Pecans and Currants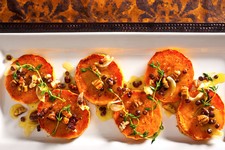 Recipe Date:
September 1, 2022
Measurements:
Imperial (US)
Ingredients
2 small butternut squash (about 2 lbs. each)
7 tbsps extra-virgin olive oil
5 sprigs of thyme
salt and pepper, to taste
3 garlic cloves, finely chopped
1/2 cup coarsely chopped pecans
1 tbsp sugar
1/4 cup champagne vinegar (or white wine vinegar)
1/4 cup currants
1/2 tsp chili flakes
Directions
Tasting notes: We love roasted butternut squash with Pinot. The earthy elements of the squash highlight the earthyness in the Pinot and the sweetness of the squash plays to the red fruit flavors in Pinot.
Serena's tips: We have used cherries and cranberries in lieu of currants and that works well too. We also roasted the pieces of butternut squash that are not used in this recipe at the same time and use them in a salad or risotto.
Recipe:
Website link
Website address: https://cooking.nytimes.com/recipes/1013345-butternut-squash-pecans-and-currants
Recipe courtesy of Sam Sifton, adapted from Balaboosta, for the New York Times. Photo courtesy of the New York Times.