Bucatini with Mushrooms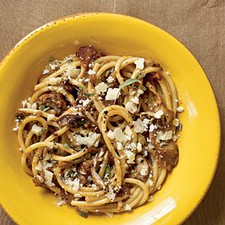 Recipe Date:
September 13, 2014
Measurements:
Imperial (US)
Ingredients
1/2 cup porcini mushrooms, dried
2/3 cup boiling water
8 ozs bucatini, uncooked
3 1/4 tsps salt
1 tbsp canola oil
1/4 cup shallots, chopped
8 ozs fresh mushroom blend
1 tsp basil, dried
2 ozs parmigiano-reggiano, divided
2 garlic cloves, minced
2 tbsps dry sherry
1/4 cup heavy whipping cream
1 tsp fresh sage, finely chopped
1/2 tsp cracked back pepper
1 tsp truffle oil
Directions
Tasting notes: Pinot and mushrooms are a match made in heaven. Keep in mind that a little truffle oil goes a long way.
Serena's tips: If you can't find bucatini, you can use fettuccine. While the recipe says it serves 4 people, we think it serves 2 as an entrée and 4 people as a side dish.
Recipe:
Website link
Website address: www.myrecipes.com/recipe/bucatini-with-mushrooms
Recipe courtesy of Cooking Light via Myrecipes.com, Bucatini With Mushrooms. Photo courtesy of Randy Mayor with styling by Leigh Ann Ross via Myrecipes.com, Bucatini With Mushrooms.