Brown Butter Brussels Sprouts Pasta with Hazelnuts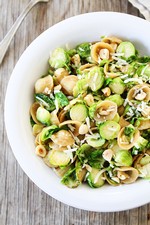 Recipe Date:
September 13, 2014
Measurements:
Imperial (US)
Ingredients
6 tbsps butter
8 ozs whole wheat pasta
1/2 cup hazelnuts
1 tbsp olive oil
2 garlic cloves, minced
1 tbsp shallots, minced
2 cups brussels sprouts, chopped
1/3 cup parmesan cheese
salt, to taste
pepper, to taste
Directions
Tasting notes: The savory aspects of the brown-butter sauce are a perfect complement to the delicate aromas of the Perli. The lightness of the pasta will not overpower the wine's moderate body.
Serena's tips: Cut each brussel sprout in quarters to make sure you do not overcook.
Recipe:
Website link
Website address: www.yummly.com/recipe/external/Brown-Butter-Brussels-Sprouts-Pasta-with-Hazelnuts-476321
Recipe and photo courtesy of Two Peas & Their Pod via Yummly.com, Brown Butter Brussel Sprout Pasta With Hazelnuts.