Blackened Tuna Steaks with Mango Salsa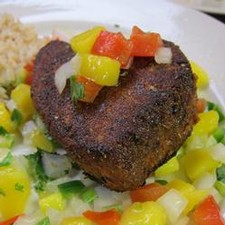 Measurements:
Imperial (US)
Ingredients
7 tbsps olive oil
4 tbsps lime juice
2 garlic cloves, minced
4 tuna steaks, 6 oz each
1 fresh mango, chopped
1/4 cup red bell pepper, chopped
1/2 spanish onion, finely chopped
1 green onion, chopped
2 tbsps fresh cilantro, chopped
1 jalapeño pepper, minced
1 tsp thyme, dried
2 tbsps paprika
1 tbsp cayenne pepper
1 tbsp onion powder
1 tsp basil, dried
1 tsp oregano, dried
1 tbsp garlic powder
salt & pepper
Directions
Tasting notes: This is a great wine for both Gewürztraminer and Pinot noir. The aromas of the wines pair perfectly with the sweetness of the mango, and the body of the wine is a nice complement to the richness of the tuna.
Serena's tips: Use two tablespoons of dry rub per filet and keep the rest for next time.
Recipe:
Website link
Website address: allrecipes.com/recipe/103535/blackened-tuna-steaks-with-mango-salsa/
Recipe & Photo courtesy of AcadiaBoi via Allrecipes.com, Blackened Tuna Steaks with Mango Salsa