Beets and Burrata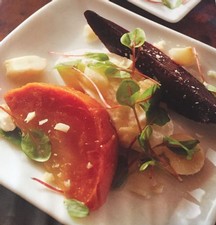 Recipe Date:
August 1, 2017
Measurements:
Imperial (US)
Ingredients
4-6 beets, tops removed, peeled
2 tbsps olive oil
2 tsps kosher salt
1 tsp fresh ground black pepper
2 tbsps red wine vinegar
zest of 1 orange
juice of 1 orange
1/4 cup olive oil
salt and pepper to taste
1 lb burrata, drained
1/2 cup chopped toasted macadamia nuts
1 cup fresh microgreens or watercress
Directions
Tasting notes: The eathiness of the beets compliments the Bing cherry notes and the richness of the burrata elongates the finish of the pinot and the light citrus dressing highlights the bright red fruit in the Pinot.
Serena's tips: We used much less dressing so as not to overpower the delicate flavors in the Pinot.
Recipe: Beets and Burrata, Chowgirls Killer Party Food, copyright 2016
Preheat oven to 400ºF.
If using small beets, quarter them. If beets are large, cut them into 1 ½-in wedges. In large bowl, toss beets with 2 tbsp olive oil, salt, and pepper to coat well. Spread on a parchment-lined baking sheet in a single layer and bake, turning once, for about 40 minutes or until cooked through and slightly crispy. Remove from oven and let cool.
While cooling beets, make dressing. In a small bowl, blend vinegar, orange zest, and juice. Slowly add ¼ cup olive oil, whisking continuously, until mixture thickens. Season with salt and pepper. Pour dressing over cooled beets and toss well.
On a clean cutting board, slice each ball of burrata into quarters. To assemble dish, place a piece of burrata on each plate, tuck in 2-3 beets, and top with macadamia nuts and microgreens. Serve cold or at room temperature.
Makes 16 to 24 small plates.
Photo courtesy of Chowgirls Killer Party Food.
Our recipe pairings for the fall 2017 release are all from Chowgirls Killer Party Food, the best-selling cookbook written by good friends of ours from Minnesota. Chowgirls has been catering Cartograph's Minnesota spring release parties since our debut, and chef Heidi Andermack has been friends with Alan since his days at Minnesota Public Radio.