Becca's Butternut Bisque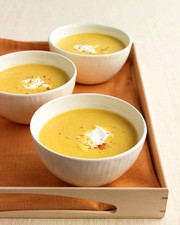 Recipe Date:
August 1, 2017
Measurements:
Imperial (US)
Ingredients
2 lbs butternut squash, peeled and cubed
1 tbsp olive oil
5 tbsps butter
2 1/2 cups chopped yellow onions
4 garlic cloves, peeled and minced
1/2 cup qhite wine
2 tbsps champagne vinegar
4 cups vegetable broth
3 tbsps kosher salt
3/4 cup heavy cream
2 tbsps sherry vinegar
salt to taste
3 tbsps salted butter
3 tbsps pistachios, chopped for garnish
Directions
Tasting notes: Roasted butternut squash compliments the very Fall-like aromas in the both the Mariah and Perli Vineyard Pinots and the richness of the soup highlights the finish on the Pinot.
Serena's tips: Decrease the amount of salt and taste the soup and salt it to your taste buds.
Recipe: Becca's Butternut Bisque, Chowgirls Killer Party Food, copyright 2016
Preheat oven to 350ºF and line a baking sheet wtih parchment paper.
In a large bowl, drizzle squash pieces with olive oil and toss to coat.
Spread squash pieces in a single layer on parchment-lined baking sheet and roast, turning once, for 1 hour or until pieces are softened and browned at the edges.
Meanwhile, in a medium stock pot on medium heat, melt butter. Add onions and sauté on low heat for 10 minutes, until they have sweated down and moisture has evaporated from pan. Increase heat to medium-high, stir onions frequently and scrape up caramelization from bottom of pan. Once onions are medium-brown, add garlic and sauté for 2 minutes, stirring frequently. Increase heat to high and deglaze pan with white wine and champagne vinegar. Continue to cook for about 5 minutes to reduce liquids.
After wine and vinegar have almost completely evaporated from pan, add roasted squash, broth, salt, and cream. Cook on medium-low heat for 10-15 minutes or until squash starts to break down. Transfer soup to a blender and blend on high until soup appears creamy and smooth. (Be careful when blending hot liquids!) Pass soup mixture through strainer. Add sherry vinegar and salt to taste.
In a small saucepan on medium heat, melt 3 tbsp butter and cook for 1-2 minutes, until solids start to brown. Keep warm.
Pour soup into shot glasses. Top each with ½ tsp brown butter and ¼ tsp pistachios.
Makes 18-24 shots.
Photo courtesy of Martha Stewart, http://www.marthastewart.com/312603/butternut-bisque
Our recipe pairings for the fall 2017 release are coming from Chowgirls Killer Party Food, the best-selling cookbook written by good friends of ours from Minnesota. Chowgirls has been catering Cartograph's Minnesota spring release parties since our debut, and chef Heidi Andermack has been friends with Alan since his days at Minnesota Public Radio.