Balsamic Glazed Acorn Squash with Shallots and Rosemary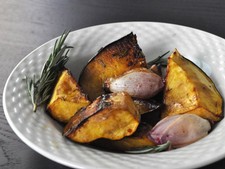 Recipe Date:
September 2, 2016
Measurements:
Imperial (US)
Ingredients
1 Acorn squash, seeded, cut into aproximately 3x1 inch rectangles, peeled
8 Shallots, peeled
2 tbsps Fresh chopped rosemary
3 tbsps Olive oil
3 tbsps Balsamic vinegar
1 1/2 tsps Salt
1 tsp Black pepper
Directions
Pairing Notes: The caramelized squash helps bring out the delicate fruit notes of our Pinot while the shallot and rosemary compliments the savory elements.
Serena's Tips: Having done this recipe with the squash peeled and not peeled, trust me, you'll want to take the time to peel the squash. I reduce the rosemary to 1 tbsp so that it compliments the Perli fruit notes and does not overwhelm the Pinot's delicate nature.
Recipe courtesy of Martha Stewart
Photo courtesy of Serious Eats