Baked Chicken with Potatoes, Cherry Tomatoes and Herbs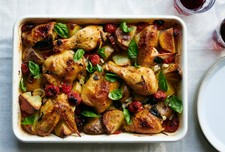 Recipe Date:
April 1, 2023
Measurements:
Imperial (US)
Ingredients
4 lbs chicken thighs, bone-in & skin-on
4 tbsps extra-virgin olive oil
1 tbsp rosemary leaves
kosher salt
black pepper
2 small dried red chiles, crumbled
3 lbs large gold Yukon potatoes, quartered
12 ozs cherry or grape tomatoes
1 large yellow onion, quartered and thinly sliced
1/4 cup dry white wine
6 basil sprigs
Directions
Tasting Notes: The bright fruit flavors of the Rosé compliment the herbs in the dish and a roasted chicken is always a natural pairing with Rosé.
Serena's Tips: We love this with fresh summer cherry tomatoes which have a little more sweetness then what the grocery stores offer throughout the year. We cut the potatoes smaller than quarters just to make it easier to get the potato and chicken into one forkful.
Recipe:
Website link
Website address: https://cooking.nytimes.com/recipes/1017566-baked-chicken-with-potatoes-cherry-tomatoes-and-herbs
Recipe courtesy of Julia Moskin of the New York Times. Photo courtesy of David Malosh of the New York Times.