Baked Chicken With Potatoes, Cherry Tomatoes and Herbs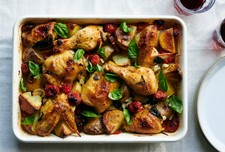 Recipe Date:
March 19, 2020
Measurements:
Imperial (US)
Ingredients
1 (3 to 4-pound) chicken, cut up, or 3 to 4 pounds bone-in, skin-on chicken thighs
4 tbsps extra-virgin olive oil
1 tbsp rosemary leaves (from about 2 sprigs)
kosher salt and black pepper
2 small dried red chiles, crumbled, or 1/2 teaspoon red-pepper flakes
2 large Yukon Gold potatoes, quartered
12 ozs cherry or grape tomatoes
1 large yellow onion, quartered and thickly sliced
1/4 cup dry white wine
4 to 6 basil sprigs, plus 2 tablespoons finely shredded leaves, for garnish
Directions
Tasting notes: The tomatoes make this dish really bright and the herbs and potatoes bring in the earthy element. Thus, pairing it with a Pinot that starts off with bright fruit and ends on a savory note is perfect.
Serena's tips: Fingerling potatoes work well in this dish too.
Recipe:
Website link
Website address: https://cooking.nytimes.com/recipes/1017566-baked-chicken-with-potatoes-cherry-tomatoes-and-herbs
Recipe courtesy of Julia Moskin and the New York Times. Photo courtesy of David Malosh for The New York Times. Food Stylist: Simon Andrews. https://cooking.nytimes.com/recipes/