Bacon Pecan Tartlets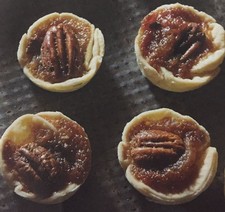 Recipe Date:
August 1, 2017
Measurements:
Imperial (US)
Ingredients
1/2 cup butter
1 cup maple syrup
1 cup brown sugar
3 eggs, beaten
1 tsp vanilla extract
2 9-in pie crusts
1 tbsp butter, softened
1 lb bacon, cooked crisp and chopped into small pieces
1/2 cup chopped pecans
32 whole pecans
Directions
Tasting notes: Baconhighlights the earthy elements in the Mariah and the pecan contrasts the bright fruit.
Serena's tips: You definitely won't need as much bacon so dial it back.
Recipe: Bacon Pecan Tartlets, Chowgirls Killer Party Food, copyright 2016
Preheat oven to 375ºF.
In a medium saucepan on low heat, melt butter. Raise heat to medium and add maple syrup and sugar, whisking continuously, until sugar is dissolved and no longer grainy, about 8 minutes. Remove from heat and let cool for 15 minutes, stirring occasionally. Whisk in beaten eggs and vanilla until well combined. Set aside.
On a floured surface, roll out dough and cut into 2.5-in rounds. Butter each cup of a mini-muffin tin. Gently press in a round of pastry dough, making sure that each round meets the top of the cup. Add chopped bacon and chopped pecans to each cup, then fill with about 1 tbsp filling. Top each cup with a whole pecan.
Bake on middle oven rack for 20-25 minutes, until pastry has browned and filling set. Remove from oven and allow to cool on a baking rack for at least 15 minutes. Using a butter knife gently pry each tartlet out of its cup. Serve warm or at room temperature.
Makes 24 pieces, or 32 if you're resourceful with re-rolling your dough scraps.
Photo courtesy of Chowgirls Killer Party Food.
Our recipe pairings for the fall 2017 release are coming from Chowgirls Killer Party Food, the best-selling cookbook written by good friends of ours from Minnesota. Chowgirls has been catering Cartograph's Minnesota spring release parties since our debut, and chef Heidi Andermack has been friends with Alan since his days at Minnesota Public Radio.