Bacon, Lettuce and Tomato Sandwich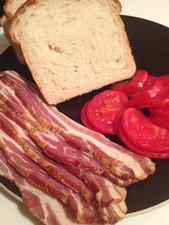 Measurements:
Imperial (US)
Ingredients
4 sslices sourdough bread
2 earl girl tomatoes, sliced
6 slices bacon, thick cut
2 bibb lettuce leaves
mayonnaise
avocado (if desired)
Directions
Tasting notes: The 2013 Rosé is a perfect complement to the rich, smoky flavors of the BLT. The Rosé has enough personality to match the bacon, while the lettuce and tomato highlight the wine's fruit and crisp acidity.
Serena's tips: We think lightly grilled sourdough bread makes this even better. Keep an eye on the Cartograph gardens if you're local and you can pick up some Cartograph tomatoes and butter lettuce.
Recipe:
Cook the bacon in a large, heavy skillet over medium-high heat until it achieves your desired level of crispness.
Remove from the heat and drain on newspaper or paper towels
Toast or grill the bread lightly
Spread mayonnaise on toast
Add tomato slices to toast and sprinkle with salt
Top tomato with lettuce, bacon and avocado, if using
Put the second piece of toast on top and dig in!
Recipe courtesy of Alan Baker. Photo courtesy of Laura Levy via Babble.com, Ultimate BLT Sandwich Recipes.