Alan's Pad Thai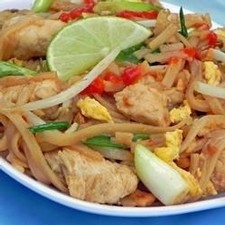 Recipe Date:
April 4, 2016
Measurements:
Imperial (US)
Ingredients
8 ozs pad thai noodles (1 box)
6 tbsps sugar
2 tbsps lime juice
5 tbsps fish sauce
2 tsps rice vinegar
2 tsps paprika
3 eggs, well beaten
2 tbsps peanut oil
2 tbsps garlic, chopped
2 hot dried thai chili peppers, chopped
12 ozs chicken or prawns or veggies (whatever your favorite is); chopped into 1.5 inch cubes
1/2 cup peanuts, chopped (dry roasted or cocktail peanuts)
1 lime, cut into wedges
4 tbsps fresh cilantro, chopped
fresh chilies, chopped, as a garnish if you want more heat
1 cup bean sprouts (optional)
Directions
Tasting notes: Asian dishes and dry whites and sparklings are a classic pairing and we think this pad thai is great with the Brut Rosé,
Alan's Tips: For cooking this dish, it is best to fire up the wok as hot as you can get it. I have yet to find a stove from which I don't want a little more heat. Slower cooking will result in a mushy finished dish. Also, if you can get someone to help with all the chopping, it will be a lot faster!
Recipe:
In a bowl combine the sugar, lime juice, fish sauce, vinegar and paprika. Set it aside.
Soften the noodles in boiling water until they are just al dente. Rinse with cold water and set aside. (Use several quarts of well-salted water)
Warm a little oil and fry the eggs in a wok until scrambled. Remove and set aside.
Heat 2 tbsp peanut oil in wok. Add garlic and cook for 30 - 60 seconds.
Add chili pepper and chicken. Stir-fry until just barely cooked through.
Add noodles and sauce mixture. Stir-fry 3 – 5 minutes stirring frequently to mix until all ingredients are well cooked. Add bean sprouts (optional), peanuts and egg; mix to combine.
Serve immediately with lime wedges, cilantro and fresh chilies.
Photo courtesy of allrecipes.com, Transmonicon