Ahi Avocado Smorredbrod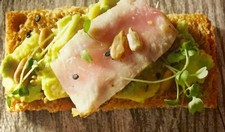 Recipe Date:
August 1, 2017
Measurements:
Imperial (US)
Ingredients
8 slices dense multigrain bread, crusts removed, cut into four 2 x 3-in (5 x 8-cm) rectangles
3 ripe Hass avocadoes, peeled and pitted
2 tbsps freshly squeezed orange juice
1 tbsp freshly squeezed lime juice
2 tsps ponzu sauce
1 tsp finely grated lime zest
1/2 tsp finely minced garlic
1 tsp finely minced ginger
1 tbsp sesame oil
1/3 cup avocado oil
2 tbsps olive oil
3 sushi-grade ahi tuna steaks
1 1/2 tbsps black sesame seeds
1 1/2 tbsps white sesame seeds
3 tbsps shelled sunflower seeds
1/4 cup watercress or microgreens, for garnish
Directions
Pairing notes: The combination of Ahi tun and citrus is beautiful with the 2016 Green Ranch Riesling.
Serena's tip: We left out the sunflower seeds and did half the amount of sesame seeds to let the citrus flavors and the Ahi shine.
Recipe: Ahi Avocado Smorredbrod, Chowgirls Killer Party Food, copyright 2016
Preheat oven to 350°F.
On a large baking sheet, lay out bread slices in a single layer and bake for 10 minutes. Remove from oven and flip each slice. Return to oven and continue to bake for 5-6 minutes, until crisp. Remove from oven and cool on a baking rack.
In a small bowl, mash avocadoes, using a fork, until smooth with very few lumps.
In a separate small bowl, whisk together orange and lime juice, ponzu, lime zest, garlic, and ginger. Continue to whisk while drizzling in sesame and avocado oils. When dressing has thickened, set aside.
In a medium frying pan on high, heat olive oil until almost smoking. Reduce heat slightly and add tuna steaks, searing for 2 minutes on each side until lightly crisped but raw in the center. Allow tuna to rest for 5 minutes. Using a sharp knife, thinly slice tuna into 32 evenly sized pieces. Set aside.
To assemble, top each toast with about 1 tbsp avocado, a slice of tuna, and a drizzle of dressing. Garnish with black sesame seeds, sunflower seeds, and watercress.
Makes 32 portions.
Photo courtesy of Chowgirls Killer Party Food.
Our recipe pairings for the fall 2017 release are all coming from Chowgirls Killer Party Food, the best-selling cookbook written by good friends of ours from Minnesota. Chowgirls has been catering Cartograph's Minnesota spring release parties since our debut, and chef Heidi Andermack has been friends with Alan since his days at Minnesota Public Radio.