Crab Salad on Endive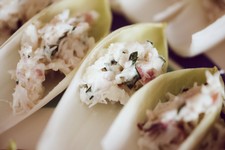 Measurements:
Imperial (US)
Ingredients
1/2 fennel bulb - trimmed, quartered lengthwise, and finely chopped
1/2 lb fresh lump crabmeat (checked for shell fragments)
1 shallot, finely chopped
1 tbsp fresh chives, finely snipped (plus more for garnish)
1 tbsp flat leaf parsley, finely chopped
2 tbsps mayonnaise
1 tbsp creme fraiche (or sour cream)
1 lemon, juiced
1/4 tsp salt, plus more, to taste
1/4 tsp white pepper, freshly ground, plus more, to taste
6 heads of belgian endive (large)
Directions
Tasting notes: The brininess of the crab complements the Brut Rosé's flavors, while the creaminess of the salad balances the wine's bright acidity.
Serena's tips: Have your local butcher cook and shell the crab for you, it makes it much faster!
Recipe:
Website link
Website address: https://www.williams-sonoma.com/recipe/crab-salad-with-endive.html
Recipe courtesy of Williams-Sonoma.com, adapted from Williams-Sonoma Food Made Fast Series, Small Plates, by Brigit L. Binns (Oxmoor House, 2007). Photo courtesy of Gary Ottonello for Cartograph.