Pastry-Wrapped Brie With Raspberries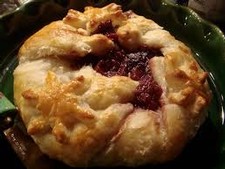 Measurements:
Imperial (US)
Ingredients
1/2 cup raspberry preserves
1/4 cup raspberries, Fresh
1/2 tsp fresh rosemary, chopped
1 sheet puff pastry, thawed
1 brie wheel, 13 oz.
1 egg, large
Directions
Tasting notes: The 2013 Rosé is a perfect contrast to the richness of the Brie. The fresh raspberries accentuate the fruit-forwardness of the wine, while the rosemary highlights the wine's delicate floral notes.
Serena's tips:Try to find a raspberry jam that isn't too sweet; if yours is particularly sweet, just use a little less jam. Serve with: baguette slices, crackers, grapes, apples.
Recipe:
Website link
Website address: https://www.epicurious.com/recipes/food/views/pastry-wrapped-brie-with-raspberries-104798
Recipe courtesy of Inez Holderness via Bon Appétit via Epicurious.com, Pastry-Wrapped Brie with Raspberries. Photo courtesy of foodinspiration.com, Baked Brie in Puff Pastry.