Greek Salad Pitas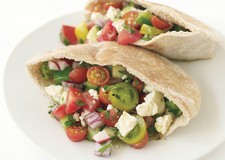 Measurements:
Imperial (US)
Ingredients
3 tbsps olive oil, extra-virgin
1 tbsp red wine vinegar
1 1/4 cups plum or cherry tomatoes, chopped and seeded
1 cup cucumber, chopped, peeled, and seeded
1 cup green bell pepper, chopped
2/3 cup red onion, chopped
1/2 cup radishes, chopped
1 cup feta cheese, crumbled
1/2 cup fresh Italian parsley, chopped
Directions
Tasting notes: The crunchy vegetables and the tartness of the feta complement the crisp brightness of the Rosé.
Serena's tips: Warm the pita bread for an additional level of deliciousness.
Recipe:
Website link
Website address: www.bonappetit.com/recipe/greek-salad-pita-sandwiches-2
Recipe and photo courtesy of www.bonappetit.com.