Moussaka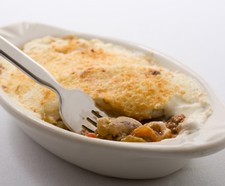 Recipe Date:
September 1, 2015
Measurements:
Imperial (US)
Ingredients
3 lbs eggplant
2 lbs russet potatoes
salt, to taste
1/3 cup olive oil
2 cups onion, diced
1 1/4 lbs lamb, ground
2 cups plum tomatoes, chopped (could also substitute diced canned tomato)
2 tsps garlic, minced
2 cloves
1/4 tsp cinnamon (or 1/2 a stick)
1 bay leaf
allspice, pinch
black pepper, to taste
1/2 cup water
2 tbsps tomato paste
1/4 cup dry red wine
1/4 cup plain bread crumbs
5 tbsps butter (for the cheese sauce)
5 tbsps flour (for the cheese sauce)
2 1/2 cups milk (for the cheese sauce)
nutmeg
2 egg yolks
1/2 cup parmesan cheese, grated
Directions
Tasting notes: We loved the rich flavor of eggplant and lamb with the Mariah Pinot. The earthy flavors highlight the bright fruit of the Mariah.
Serena's tips: We recommended cooking all the different pieces of this dish including the cheese sauce before you assemble anything. For the eggplant we bake it in slices on an oiled cookie sheets for about 20 minutes instead of sauteeing it on the stove. Make sure to cut the potatoes almost paper thin so that they create an appealing layer. For the cheese sauce, it takes about 3 minutes not 30 minutes as printed. Go light on the cinammon as it can be overwhelming. And if you want to save time, you can used diced canned tomatoes and purchase a Bechamel sauce to substitute for the cheese sauce.
Recipe:
Website link for the moussaka
Website address for the moussaka: https://www.epicurious.com/recipes/food/views/lamb-and-eggplant-moussaka-352510
Website link for the cheese sauce
Website address for the cheese sauce: https://www.epicurious.com/recipes/food/views/cheese-sauce-353749
Recipe courtesy of the Culinary Institute of America via Epicurious.com. Photo courtesy of CIA/Keith Ferris via Epicurious.com.