Roasted Butternut Squash And Caramelized Onion Tart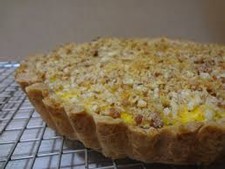 Recipe Date:
September 1, 2015
Measurements:
Imperial (US)
Ingredients
9 ozs pastry dough (we buy if from the local bakery) or you can use a prepared frozen pie crust
pie weights for weighing the pastry shell
1 lb butternut squash (one small one)
3 1/2 tsps olive oil
1 yellow onion, small
1 1/2 tbsps unsalted butter
1 egg, large
1/2 egg yolk, large
1/3 cup heavy cream
3/4 cup fontina cheese, grated (we suggest 1/4 cup)
1/3 cup parmesan, grated (we suggest 3/4 cup)
1/4 cup goat cheese, mild, crumbled (we suggest 1/3 cup)
Directions
Tasting notes: The rich earthy flavors from the butternut squash and caramelized onion compliment the fruit and the savory elements in the Choate Pinot noir.
Serena's tips: The fontina cheese is too bitter for the Pinot so we do 1 cup parmesan, 1/4 cup fontina, and 1/3 cup goat cheese. With the herbs, because we have all three growing in the Cartograph garden, we do 1 teaspoon total of a mix of all three herbs.
Recipe:
Website link
Website address: https://www.epicurious.com/recipes/food/views/roasted-butternut-squash-and-caramelized-onion-tart-15748
Recipe courtesy of Gourmet November 1998 via epicurious.com. Photo courtesy of http://www.madcitygirl.com/2014/11/10/roasted-butternut-squash-and-caramelized-onion-tart/