Abbaye de Bel'loc cheese, Charcuterie and Truffled almonds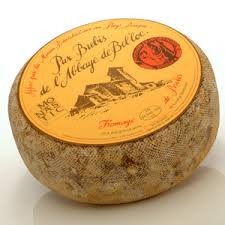 Measurements:
Imperial (US)
Ingredients
abbaye de bel'loc cheese
assorted charcuterie (pick your favorites)
truffled almonds
Directions
Tasting notes: The Abbaye de bel'loc cheese is a mild, but rich and smooth, sheep's milk cheese made by Benedictine monks in France. Something about its burnt caramel/nutty flavor plays extremely well with the Leonardo Julio Pinot; on the nose, the lanolin aspect of the cheese further brightens Leonardo Julio's beautiful fruit.
Serena's tips: If you're super-geeky like we are, you should ask your cheesemonger for the wheels of cheese that were produced in July. It's produced twice a year, in July and December, but it all comes to market in April.
Recipe:
Choose whatever charcuterie you like to go with the cheese, and we strongly suggest adding a batch of truffled almonds to your platter.
We were familiar with the delicious truffled Marcona almonds from Spain, which made us realize that we could take locally sourced almonds, roast them and add truffle oil and salt to mimic the flavor (but not the creamy texture) of Marconas.
Here's how to roast the almonds: Roast raw, unsalted almonds at 350F for 10–15 minutes, allow them to cool for 10 minutes, then toss with truffle oil and salt.
Photo courtesy of http://www.cheezwhse.com.