Soba Salad with Miso Dressing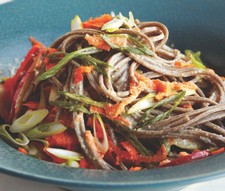 Measurements:
Imperial (US)
Ingredients
Kosher salt (a few pinches to salt the water you cook the noodles in)
5 tbsps White miso paste
1/2 cup Fresh ginger, peeled and chopped
1/4 cup Soy sauce
3 tbsps Fresh lime juice
1 Egg (large)
1 cup Vegetable oil
Black pepper, freshy ground, to taste
1 lb Soba noodles
4 Carrots (medium), peeled and coarsley grated (yields about 4 cups)
2 Bunches of scallions, thinly sliced on the bias (yields about 2.5 cups)
2 Bunches of radishes, thinly sliced (yields about 4 cups)
Directions
Pairing Notes: Asian spices and Gewürztraminer are a perfect pairing because the bright fruit flavors in the Gewürztraminer balance the spice and refresh your palate.
Serena's Tip: Boil the water for the soba noodles while you are making the dressing, so it all comes together at the same time; or, you can make the dressing the day before.
Recipe courtesy of Family Table: Favorite Staff Meals from Our Restaurants to Your Home, by Michael Romano and Karen Stabiner, © 2013 Houghton Mifflin Harcourt, via epicurious.com. Photo courtesy of Marcus Nilsson.