Pork Meatball Banh Mi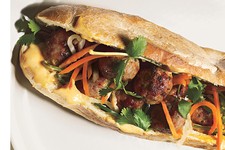 Measurements:
Imperial (US)
Ingredients
2/3 cup Mayonnaise
2 Green onions, finely chopped (for the Hot Chili Mayo)
1 tbsp Hot chili sauce (like Sriracha) (for the Hot chili Mayo)
1 lb Ground pork
1/4 cup Fresh Basil, finely chopped
4 Garlic cloves, minced
3 Green onions, finely chopped
1 tbsp Fish sauce (like nam pla - the Thai version; or nuoc nam - the Vietnamese version)
1 tbsp Hot chili sauce (like Sriracha)
1 tbsp Sugar (for the meatballs)
2 tsps Cornstarch
1 tsp Black pepper, freshly ground
1 tsp Coarse kosher salt
2 cups Carrots, coarsely grated
2 cups Daikon radish, peeled and coarsely grated
1/4 cup Rice wine vinegar, unseasoned
1/4 cup Sugar (for the sandwiches)
1 tsp Coarse kosher salt
1 tbsp Sesame oil
4 Individual 10" baguettes (or 4 10" pieces of French bread cut from 2 loaves)
Chiles, thinly sliced, to taste
16 Large fresh cilantro sprigs
Directions
Pairing Notes: The combination of the spice from the chili and sriracha and the pickled vegetable highlight the bright acidity of the Gewürztraminer.
Serena's Tips: Prepare the hot mayo and the meatballs the day before for time management. An alternate time management strategy is to prepare the pickled vegetables first and then make the meatballs and the hot mayo sauce.
Recipe courtesy of Jeanne Thiel Kelley, Bon Appétit January 2010, via www.epicurious.com. Photo courtesy of Craig Cutler.