Wild Mushroom Tart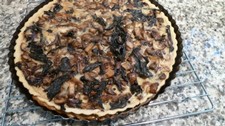 Recipe Date:
May 13, 2013
Measurements:
Imperial (US)
Ingredients
1 1/4 cups Flour (all purpose)
1/2 tsp Salt
1/2 cup Unsalted butter (= 1 stick), chilled and cut into pieces (for the crust)
2 tbsps Ice water (for the crust)
1 cup Water
1 oz Dried porcini mushrooms
1/4 cup Unsalted butter (= 1/2 stick)
10 ozs Crimini or button mushrooms, sliced
1/4 cup Shallots, minced
2 tbsps Cognac or brandy
2 tbsps Fresh herbs, chopped (rosemary, thyme, parsley)
2/3 cup Gruyère cheese, grated
3/4 cup Whipping cream
2 Large egg yokes
1 Large whole egg
Directions
Pairing Notes: Mushrooms compliment the earthiness of the 2011 Sonoma County Pinot Noir and the herbs enhance the fruit component.
Chef's Tip: Feel free to substitute any mushrooms that you like, especially if you are able to source (or forage!) wild mushrooms locally. Also, if you have a local bakery that makes amazing pie dough, use that to cut down on preparation time.
Recipe courtesy of Bon Appétit (May 1994), via epicurious.com. Photo courtesy of http://tomatoenvy.com/2015/01/30/wild-mushroom-tart/.