Poached Salmon with Fresh Morel Mushrooms, Tarragon, and Cream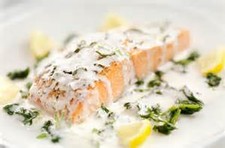 Measurements:
Imperial (US)
Ingredients
4 tbsps butter, unsalted
8 ozs morel mushrooms, fresh, wiped clean and sliced
salt, to taste
black pepper, freshly ground, to taste
3 cups dry white wine (or dry white vermouth)
2 salmon filets, skinned (about 6 oz. each)
2/3 cup heavy cream (or sub creme fraiche)
2 tbsps fresh tarragon, chopped, plus more for garnish
Directions
Tasting notes: Mushrooms and salmon, bring on the Pinot! Salmon brings out the rich body of the Pinot and the mushrooms emphasize it's earthy characteristics.
Serena's tips: You may use any fresh mushrooms that you prefer (and are available).
Recipe:
Website link
Website address: www.epicurious.com/recipes/member/views/poached-salmon-with-mushrooms-tarragon-and-cream-1244256
Recipe courtesy of Solo Dinners By Joyce Goldstein, via www.epicurious.com. Photo courtesy of http://www.goodtoknow.co.uk.