Roasted Duck Breasts with Pomegranate-Chile Sauce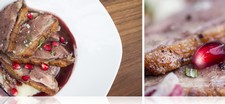 Recipe Date:
September 13, 2012
Measurements:
Imperial (US)
Ingredients
1/3 cup Sugar
1/2 cup Water
2 cups Pomegranate juice (refrigerated)
2 cups Chicken broth, low sodium
4 California chiles, dried, stemmed and seeded, and torn into 1-inch pieces
1 1/2 tsps Adobo sauce (from canned chipolte chiles in adobo)
1 1/2 tsps Balsamic Vinegar
1/8 tsp Ground Cumin (not toasted)
Coarse kosher salt, to taste
8 Boneless duck breasts (5-6 oz ea.), skin and fat trimmed to the size of each breast
Coarse kosher salt, to taste
Ground coriander, to taste
Fresh pomegranate seeds
Directions
Pairing Notes: The pomegranate sauce highlights the cranberry and cherry in the Pinot and the richness of the duck breast complements the earthy elements in the wine.
Serena's Tips: You can substitute chicken or pork for the duck breasts. For time management, you can also make the sauce up to a week beforehand.
Recipe courtesy of Selma Brown Morrow, via www.bonappetit.com. Photo courtesy of www.marxfood.com.