Third Annual Pass the Pigs Olympics - CANCELLED
| | |
| --- | --- |
| Date: | Sun, Mar 20, 2016 |
| Time | 12:00 PM to 1:30 PM |
| Venue: | The Tasting Room, 340 Center St., Healdsburg |
| Phone: | 707-433-8270 |
UPDATE: 3/10/16 This event has been cancelled. We've been so busy with the new vineyard that we have not had time to organize this event so we are cancelling it this year. Sorry about that. - Serena
Win prizes!
Impress your friends!
Assert your place at the top of the food chain!
Join us when Cartograph Wines becomes Cartograph Swines at noon on Sunday, March 230 for the third annual Pass the Pigs Olympics. This completely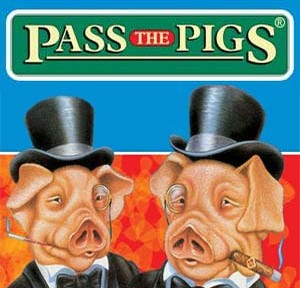 wacky dice game is guaranteed to get you rolling with laughter like . . . well, like a pig rolling in mud.
Picture yourself standing on the medal podium, a gold medal around your neck and a porcine trophy in your hand, salty tears streaming down your face as you're overwhelmed with the joy of achieving your lifelong dream.
Best of all: There are medals, flowers, and prizes for the winners.
Pass the Pigs is super-simple to master (get the rules and scoring grid here). We're planning a double-elimination tournament to determine the gold medalist, with silver and bronze medalists determined by the highest cumulative point totals.
It's free to enter—just email us at info@cartographwines (include both your real name and your nom de pig if you're competing under a different name). Hope to sooo-ey you there!
Team Cartograph