Wild Mushroom Risotto version 2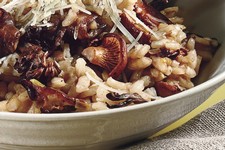 Recipe Date:
September 1, 2018
Measurements:
Imperial (US)
Ingredients
3 14 1/2 oz cans of vegetable broth
3 tbsps Butter
3 tbsps Olive oil
2 Shallots, chopped
1 lb Assorted wild mushrooms (oyster, crimini, shiitake, etc.) sliced
1 cup Arborio rice or other medium-grained rice
1/2 cup Dry Sherry
1/2 cup Freshly grated Parmesan
3/4 tsp Chopped fresh thyme
Directions
Pairing Notes: We love the flavors of the risotto and particularly enjoyed the creaminess, it was a perfect pairing for the Cartograph Estate Pinot noir.
Chef's Tip: Be sure to use a mix of mushrooms as each one adds thir own element.
Recipe and photo courtesy of: www.epicurious.com