Roasted Red Pepper Hummus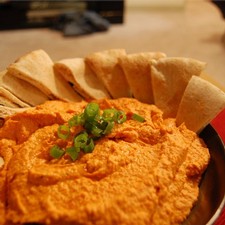 Recipe Date:
April 4, 2016
Measurements:
Imperial (US)
Ingredients
2 Garlic cloves, minced
15 ozs Garbanzo beans, drained (1 can)
1/3 oz Tahini
1/3 cup Lemon juice
1/2 cup Roasted red peppers
1/4 tsp Basil, dried
Directions
Pairing Notes: There is something about the sweetness of roasted red peppers that makes the dry Gewürztraminer sing.
Chef's Tip: We were unable to find Tahini in our local grocery stores so we learned how to make it and it is very easy to make. Here's the recipe we followed. Some tips for tahini: if you are lacking on time, you can purchase toasted sesame seeds. Also, the quantity of oil that you put in impacts the taste and more oil will make it creamier. We recommend not using a lot of sesame oil andinstead about 1/4 to 1/2 cup of olive oil.
Recipe and photo courtesy of www.allrecipes.com