Minestrone with Black-Eyed Peas and Kidney Beans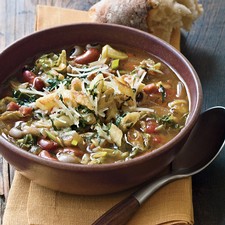 Recipe Date:
September 2, 2016
Measurements:
Imperial (US)
Ingredients
3 tbsps Extra-virgin olive oil
2 ozs Pancetta, finely diced
1 Large onion, finely chopped
2 Celery ribs, thinly sliced
8 Garlic cloves
1 Leek- white and tender green parts thinly sliced, 1 dark top reserved
Salt and pepper to taste
1/2 lb Savoy or other green cabbage, coarsely shredded
1 14 oz can diced tomatoes
1 cup Dried black-eyed peas
2 Quarts water
5 Parsley sprigs
1 15 ounce can red kidney beans, drained and rinsed
2 ozs Penne
1/2 cup Shredded basil
1/4 cup Parmigiano-Reggiano cheese, plus more for serving
Directions
Pairing Notes: There is a lightness in this minestrone that makes the cherry notes of the Sangiovese sing. The cabbage and beans hint at the savory flavors underlying the Sangiovese.
Serena's Tips: For a vegetarian version, leave out the pancetta. We double the amount of garlic and reduce the thyme to 1 sprig as a matter of personal preference. Because Alan loves pasta, we increase the amount of penne and we do not chop it into rings. To make sure the black eyed peas cook completely, we soak them in water overnight.
Recipe courtesy of Food and Wine Magazine, Mark Peel, Novebmber 2009
Photo courtesy of Food and Wine Magazine, Quentin Bacon