Artichoke Tapenade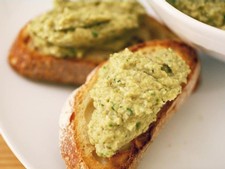 Recipe Date:
March 7, 2017
Measurements:
Imperial (US)
Ingredients
1 cup Canned artichoke hearts, drained
1/4 cup Parmesan cheese, grated
1 tbsp Fresh squeezed lemon juice
1 Garlic clove, coarsely chopped
1/2 tsp Salt
3 tbsps Olive oil
1 tbsp Italian parsley, chopped
Directions
Pairing notes: The bright flavors of artichoke and lemon highlight the floral elements and acidity of the 2016 Gewürztraminer.
Serena's tip: This is such a fun and easy appetizer. I adjust the lemon juice based on how much zippiness I want in the tapenade.
Recipe: Tapenade Trio: Artichoke Tapenade, Chowgirls Killer Party Food, copyright 2016
In a food processor, combine artichokes, cheese, lemon juice, garlic and salt. Process until well combined. Turn off processor and scrape down sides. With processor on, slowly add olive oil and continue to process until smooth. Transfer to a serving bowll and stir in parsley.
Makes about 1 cup.
Photo courtesy of Serious Eats and Kerry Saretsky http://www.seriouseats.com/recipes/2012/02/artichoke-and-green-olive-pantry-tapenade-recipe.html
Our recipe pairings for the spring 2017 release are all coming from Chowgirls Killer Party Food, the best-selling cookbook written by good friends of ours from Minnesota. Chowgirls has been catering Cartograph's Minnesota spring release parties since our debut, and chef Heidi Andermack has been friends with Alan since his days at Minnesota Public Radio.