September 26, 2013 | Serena Lourie
A Cartograph Garden Update
Having had a crazy busy begining of September with all the Pinot picks, it was nice to have a little bit of a lull towards the end of September where instead of picking grapes we could harvest the Cartograph Garden.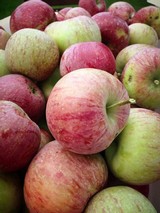 It's been an amazing year for tomatoes and we have about 40 pounds of tomatoes that we peeled and seeded and froze to make pasta sauces this winter. French green beans had an incredibly prolific month and we ate about 6lbs of them and blanched and froze the rest to enjoy this winter. We've picked about 5 lbs of shelled cannelini beans which will be such a treat this winter.
While the melons were not prolific by any means, we so enjoyed our two baby watermelons and the three Charentais melons. But getting back to prolificness, the Graventstein apple tree was a rockstar this year and fed many many people. This year was also our most successful pepper year - a zillion padrones which we could not share fast enough, bell peppers that grew to a decent size instead of flailing, jalapenos, anaheim peppers, habaneros ... all still going strong. Last but not least, the eggplants, delicata squash, cucumbers, and zucchini were all stunning in their ability to produce.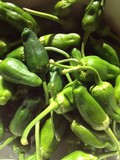 Next fall when the tasting room is open, produce from the Cartograph Garden will be brought in so that people can help themselves to the veggies. This year we shared the veggies by having a cooler out by the front door and encouraged people to help themselves to whatever was in the cooler. That turned out to be a very successful way to catch up with friends during harvest season when we rarely emerge from the winery.
Hope all of your gardens brought you much happiness and prdouce this summer. - Serena
Comments
Commenting has been turned off.